Exhibitor Information
Download the Exhibitor Badge Form
Download Loading Dock Guidelines
Exhibit Hall will open on Thursday Evening for a Welcome Reception!
Interactive Exhibitor Game: Attendees will have an opportunity to play an exhibitor game for a chance to win an Apple Watch and other prizes.
Thank you for supporting the 2019 Michigan Music Conference!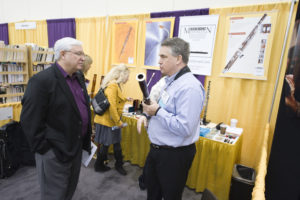 2019 Registration

Registration for Administrators
We are excited to have Administrators from all over join us for the 14th annual MMC! Administrator registration is available here.
Educator Letter to Administrators
A request to attend the Michigan Music Conference letter template for educators.
Nursing Mothers Rooms
Dedicated spaces for nursing mothers will be available throughout the 2019 Michigan Music Conference.
Amway Grand Plaza Hotel:
Friday, 1/25: Pearl Room
Saturday, 1/26: Berkey Room
DeVos Place: existing nursing mothers rooms located on street level and overlook level on the west side of the facility

2019 Michigan Music Conference
January 24-26, 2019
Session Proposal Application Opens

January, 2018
Session Proposal Application Closes

June, 2018
Session Acceptance Emailed to Presenters

July, 2018
Online Registration is Open
September, 2018

Early Bird Registration Deadline
December, 2018

2020 Michigan Music Conference

January 16-18, 2020